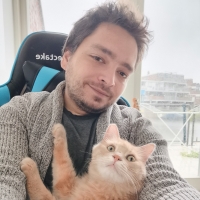 Hi! I'm Vlad. I specialize in machine learning & natural language processing, focusing on sparsity and structure. I obtained my PhD from Cornell in 2018, advised by Claire Cardie, and post-docced in the Sardine lab, Lisbon, Portugal. I am a scikit-learn core dev/alum.
News¶
Oct 25. Serving as Senior Area Chair for

EACL

2023.
Oct 1. Coordinating the Horizon Europe

UTTER

project alongside Wilker Aziz.
Dec 16. Awarded a

NWO

Veni grant from the Dutch Research Council, funding my research for the next three years.
I've been giving (some talks).